Hi Ross,
Hope you are doing well. I wanted to share with you the golf year that I had at 64 years old. Below are some of the things I achieved.
2 hole in ones
2 eagles in one round "A" flight club champion 2nd place in men's club league (300 members) Multiple 9 hole rounds under par, including 2 rounds at 3 under Handicap index as low as 6 I credit you with a lot of my success. I continue to use your teaching techniques and I have improved with each year. Never thought I would play so well into my mid 60's. Hitting the driver farther now than I did 10 years ago. Just wanted you to know. Thanks for everything Happy Holidays,
---
A quick note to say THANK YOU for your method. The golfing season is winding down here on Vancouver Island, and I've had my best year of golf yet following your method. I thank you, my score thanks you and my back thanks you! Whenever my game goes sideways it's because I'm straying from your simple teaching. Once I go back my ball striking improves again. It took me a couple of seasons to incorporate the changes into my swing, but I'm so glad I stuck it out. You're a great teacher. Thank you again for sharing your insights!
---
I played 9 holes yesterday using one of your drills (from YouTube). Using a partial swing, as per your drill, I shot 43 which shocked me I was hitting the ball so well and felt confident before every shot. Your method is so simple and repeatable thanks. I can't wait to view the full group of videos. Mark
---
Ross, I have been watching your most excellent golf videos I love them and watch you every day. You put your point across in a meaningful way, a very sincere way, a very simple easy to understand way and dare I say it it works !! Thats your genius. You're just the best and the golf world should know it, your best fan Denis.
---
Ross I am sure you are tired of testimonials, but having been a pursuer of trying to find a comfortable, repeatable swing over the years. It is unbelievable how many lessons I have had over the last 20 years. Not counting the DVD purchases of every method, swing aids, etc... I have hours and hours of video lessons from instructors everywhere, which I have kept and often referred back to when I drop an unsuccessful method... I can happily and confidently throw all of the other stuff away. None of those methods work. You addressed exactly what I needed in my swing and it just feels great... and it is only going to get better... never hit the ball so solidly or finished on my left side so well... love it. Greg
---
I am enclosing two records. Our foursome on Japanese Golf Tournament, we got First Place. I am the second from the right. That was two weeks before your last swing analysis this week.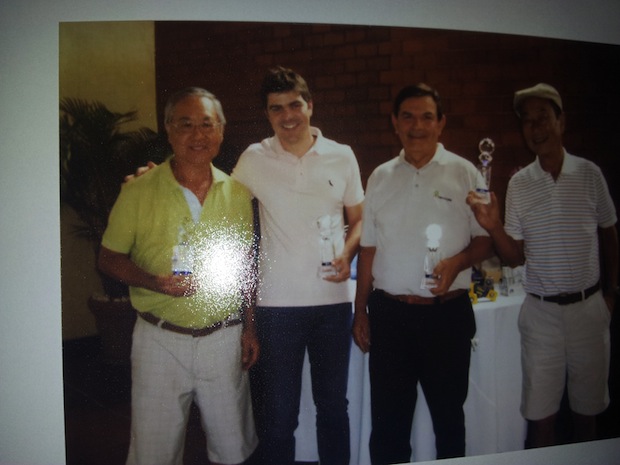 Now take a look on my today's card. Amazing 86 gross, deducting my handicap 23 equals 66 net! John Tunes, my friend, told me that I was cheating in my handicap as he saw me to play. I just said, thanks to great teacher - Ross Duplessis. People are getting around my notes. Thank you! Thank you for your wise guidance. Cal Guimarães.
---
Hi Ross Just thought I`d write a quick email to say THANK YOU for your square to square swing. Today after work I took my driver to the driving range and after warm-up was hitting driver dead-straight around 250-270+ yards (many balls stopped by the back net which is 270 yards away). Amazing ! 90% of the balls I hit went exactly where aimed, with very nice trajectory. Why this astounds me even more is, I have not picked up a golf club in over 22 years (formerly an 11 handicapper) and only started back at golf 8 weeks ago. Again many thanks for the help and great information. Best Regards Andy
---
Ross: You have helped me like no other instructor, and I've had quite a few lessons over the years. I now no longer hit the ball fat and by resisting with my lower body I have greater distance. Thank you so much! Nancy
---
Hello Ross, I take the opportunity to say, that I'm really happy with your site and feel that I'm on the right track - after quite some years of golf and lessons by local 'pro'. I find your method much more simple and easy to do repeatedly - and with much better results too. For your info, I'm a 13 hcp (woman) - senior! but still enjoying this wonderful game and optimistic enough to believe I can do better! Thank you for your reply, and your very comprehensible site.
---
Thanks Ross! With help from your website, I am now playing the best golf of my life. Golf is fun for me instead of frustrating! Thanks for all you do, Ted
---
Ross - I have been playing golf for 40+ years, and after just watching your videos and less than an hour on the range, I am hitting fairways and greens. I played Saturday and most of the fairways and was in the short rough on the other few holes. I played Sunday and had the same result. Your swing is so easy to do. I never realized how many problems I created for my swing by rolling my wrists. Now I don't have to worry about duck hooks or weird slices. Yep - the takeaway feels weird at first, but after a while it feels right. Thanks for making this site and knowledge available.
---
Ross, I played on a national championship golf team in college so I have tried every possible swing system known to man. Without a doubt, your instructional system is the very best! I have always maintained that there had to be an easier way to play good golf than the swing systems we have been using. It is almost impossible for a person with only average athleticism and limited time to play and practice to ever achieve a handicap of less than 15. However, it is now possible with your instructional method for everyone to score lower and enjoy the game even more. Your system eliminates the problems of: weight shift from the back to the front feet; getting the club face way inside on the back swing; swaying; creating and maintaining the lag; squaring the club face at the moment of impact; creating a high swing finish with your hands; maintaining your head behind the ball at impact; and back injuries due to the reverse-C body position at impact. And, add to the above difficulties, one must complete all the components of the modern swing in sequence with rhythm and timing! Is there any question as to why my three grandchildren refused to go to the golf course after our initial trip? Congratulations on your unique accomplishment. Steve
---
My putting has been transformed !!!! I was never comfortable over the ball after lining it up, because when i stood over the ball, the line didnt look right. For the first time I can actually see the line and know that i am aiming correctly. The swing is shoulders only, back and thru with solid wrists. This alone is going to save me so many strokes you wouldn't believe it !!!! Thanks so much !!! Greg
---
Dear Mr duPlessis, I would like to pass on my sincere thanks to you for what I have learned from your various videos. These videos have really helped me with my golf game and have increased enormously my enjoyment of the game. Stuart
---
Just wanted to say thanks being a member for less than a week and seeing and feeling the progress in my swing is astounding i feel i have found the instructor i have been searching for cant thank you enough. Jeff
---
Ross, I am committed to learning the duplessis swing. Last week I was ready to give my clubs away. Today, I can't wait to get out to my practice field tomorrow morning with my bag of 40 balls and a 7 iron. Today I hit 40 balls with my 7 iron: Results: 1. Solid contact. 2. Balls go straight, a tad left of target line. 3. Distance continually increases as my backswing lengthens, but it never goes more than a ¾ backswing, and I never hinge wrists going back. Love it. Thin shots disappear. Thanks, Ross. ALLAN
---
Hey Ross, just from that first one hour lesson you gave me, I went to my home course and played with my dad. I almost chipped in for birdie about 5 times and and almost chipped in for eagle twice. That was after our first lesson and i shot 79 which is my lower score I have ever shot. Can't wait to keep working with you. Thanks for the coaching.
---
I have so much enjoyed every video. After watching your chipping video, I went straight to the course I've been playing on. I love the drag in front of the ball and keeping the wrists forward seems to enable this drag, now I only need to master it. I will send you a video of my swing when I am able. Thanks, John
---
Hi Ross, After 55 years of golf you are refreshing. I guess this old dog is learning some new tricks.. Thanks... Steve
---
Dear Mr. DuPlessis, I am a super-senior who has been studying golf swings from the days of Ben Hoga and trying, successfully at times to use them, but none lasted. I am losing distance and flexibility to just name a few shortcomings, so much so that I almost given up the game I have loved for many years, However, your instruction has worked for me and given me hope. You have incorporated the basics in simple terms and have removed many problems I have encountered So, thank you. I agree you are on to something substantial, particularly with using the large muscles and taking the hands and arms out of the swing. With admiration and appreciation, Charles
---
Ross, you are right...that is an awesome putting stroke! I played around with it here in my apartment for for a while, and I think I can FINALLY go back to a short putter without getting the dreaded yips. I even tried it with my belly and long putters, and it works there as well. I've survived with those long putters, but I have prayed for a stroke that would let me go back to a short putter, one that would keep my yippy right hand at bay. I think this is it! Thank you so much; that tip alone is worth the price of admission to me. Take care, Larry
---
This could be a long message, but it's worth it. After dozens and dozens of lessons with many instructors during the last 18 years with very little to show for it, all it took is one video to improve my swing 200% (the lower body resistance/left knee during the takeway). I can't thank you enough for your insight and kindness. You are the best instructor on the planet. I have every book, cd, video, gadget and they were worthless. You are a genius. Thank you, thank you. Joseph
---
Hi Ross Many thanks for the swift response, real handy because I'm playing in a competition with the wife tomorrow:) You have answered my question completely and I fully understand what you are saying. I'm committed to playing exactly as you prescribe because it is uncomplicated and you can achieve immediate improvement. I read your message on communication - this is one of the most difficult tasks when passing on golf advice - but your communication is excellent. regards, Scotty.
There are many more comments, questions & answers on the duplessisgolf Blog here